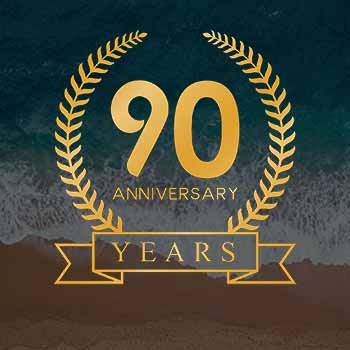 CELEBRATING OUR 94th ANNIVERSARY!
DATELINE 1929
• Charles Lindberg leaves on a 3,500-mile flight all the way from Detroit to Cape Horn, Africa.
• The comic strip hero "Popeye" makes its debut in Thimble Theatre.
• The first ever Academy Awards is held, and the movie "Wings" wins Best Picture.
• Construction on Rockefeller Center begins in New York City.
• Charles Leiper Grigg invents a soft drink he calls 7-Up.
• Herbert Hoover is sworn in as the 31st President of the United States.
Charles and Mildred Schlosser purchase the southwest corner of President and Grand Central Aves. in Lavallette, a small family resort town with a year-round population that has grown to 287 after having benefitted in recent years with such amenities as electricity, running water, a natural gas line and a sewage system.
Charles, a mechanic, opens two garages to house the summer visitors' automobiles that cross to the shore over the narrow wooden bridge which serves as the connection between the mainland and the shore. He develops and manufactures the tools necessary to keep those automobiles in tip top shape and sells the gasoline with which to get the visitors back home after the summer.
Armed with a business degree, skilled in bookkeeping and shorthand, Mildred Schlosser opens Schlosser Real Estate. With a typewriter, carbon paper for copies, an operator assisted telephone party line, fountain pen, paper and pencil she forges ahead with her fledgling business. . .
And thus began the Schlosser Real Estate Story 90+ years ago.
To become a part of our story and share in our legacy please contact us for all your real estate needs and see why the readers of the Asbury Park Press have voted me and Schlosser Real Estate as one of the best agents and best companies in Ocean County for 2018 & 2019!