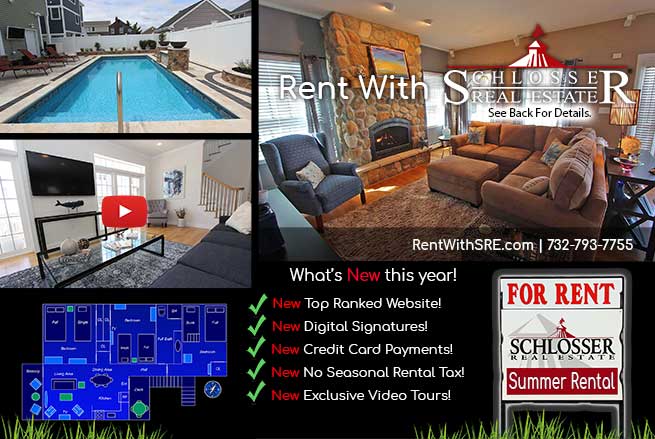 Get these added Benefits when signing Exclusive!
When you go Exclusive with Schlosser Real Estate, your listing is enhanced and Featured on our website. First, it is newly photographed and videoed. Visitors can take a video walk-through tour of the home and view a Floor plan layout to see where the rooms are and the bed sizes. Lastly, they can view Aerial imagery to see how close your property is to the ocean or the bay. Visitors can only experience these enhanced features on Exclusive Rentals, so you will be part of a very Exclusive Club.
To View an example Exclusive Tour, click below then scroll down the page to view the additional features.
Click on image above to view an Exclusive Tour on our new website.
The benefits of listing your home for rent with SRE:
We have the knowledge & expertise to rent your home for the maximum amount.

We acquire Quality Tenants on a regular basis.

We have many repeat rentals year after year.
Full Service Rental Manager & Staff
We employ a knowledgeable, professional & courteous staff.

We accompany on all showings.

We employ a full-time Rental Manager, Rachel, to manage all our rentals.

We handle payments, signing of leases, check-in, securities and much more.

Our staff & Rachel work very hard to resolve issues for our Owners!

This is invaluable to many Owners, especially during the Summer. To know that Schlosser has it handled!

We are now accepting Online/Credit Card payments for vacation rentals.
We employ an IT Director, Rich, who deploys cutting edge marketing strategies to acquire quality tenants for our properties.

He has been interviewed and featured in NJ Realtor® Magazine for his real estate photography.

Rich is also the person who developed the current Digital Signature System used by our company and many other companies who also use the Real-time Rental Software, who sign leases and authorizations digitally.

He is also currently developing new Video Walk-through Tours & Floorplans for our Exclusive Rentals.

Rich also developed our New website as well as the VRBR.com website.

Rich was just voted "The Best" photographer in Ocean County by the reader's of the Asbury Park Press in the 2019 Readers Choice Awards.
Top Market Exposure for you!
We are co-founding member of VRBR.com. The Jersey Shore's Realtor® Vacation Rental MLS®.

We work in cooperation with other REALTORS®.

Schlosser Real Estate is one of the top ranked vacation rental site's in Lavallette and Ortley with over 100,000 visitors per year to our various websites.

Powerful NEW Website and Vacation Rental Search! One of the only Realtors® in the Area who has an actual Vacation Rental Search Results Page where you can view up to 50 rentals per page. (Most other companies make you view one rental at a time.)

New "Real-time Rental" Software with owner and landlord portals.

Schlosser Real Estate was just voted "One of the Best" Real Estate Agencies in Ocean County by the readers of the Asbury Park Press. 2018 & 2019.