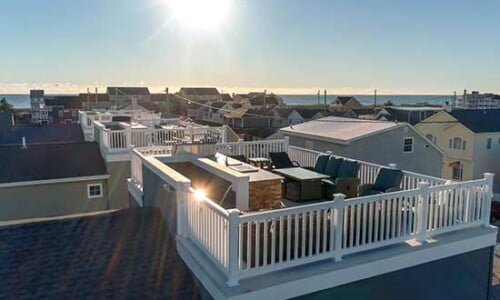 Your REALTOR® since 1929!
At Schlosser Real Estate, we have been following a successful strategy for selling homes for over 90 years. By combining new cutting edge technologies in real estate with the tried and true techniques we have been following for many years, we have developed a consistent and finely tuned process to market and sell homes.
We also employ an IT Director and FAA Certified Remote Pilot able to fly drones who assists in creating an impressive presentation for your Home. For select listings, we offer an impressive presentation through high-resolution photos, floorplans, drone footage, and our popular Video Walk-throughs.
The IT Director also works effectively to spend our advertising dollars. We advertise each of our listings to the top real estate sites including Zillow.com®, Trulia.com® and Realtor.com®. We also market our listings on over 100+ other related websites through the Ocean/Monmouth Regional MLS® via Listhub.com® and Homes & Land. Schlosser Real Estate also invests in targeted print marketing including Homes & Land Ads, our Shore Property Guide, and tens of thousands of Postcards, Brochures and Mailers sent to attract Buyers throughout the course of a year.
Below are some of the tools & strategies that may be deployed to market your home.
Professional Photography/Videography
Impressive Drone Photography, Video and Imagery.
HD Video Walk-through
Custom Designed Floor plan
Mobile Marketing (We make sure that any Buyer can view your Listing from any device.)
Advertising on the top Real Estate Websites
Listed on Zillow®, AOL Real Estate®, Realtor.com®, Facebook®, Instagram®, Google®, Linked-in®, Youtube® and many more social & relevant sites.
MLS® Multiple Listing Service – Your listing is available to every member REALTOR® of the Monmouth/Ocean® Regional MLS®.
Featured in Homes and Land Magazine
Print Marketing Postcards, Brochures, Various Mailers
NOTE: Each agent has their own freedom to purchase which ever tour or media they see fit to help market your listing. Some agents may offer all of the services listed on this page, while others may offer some or a combination of different media.