New Toms River Twp Rental Certificate of Occupancy
by SRE
March 9, 2018
0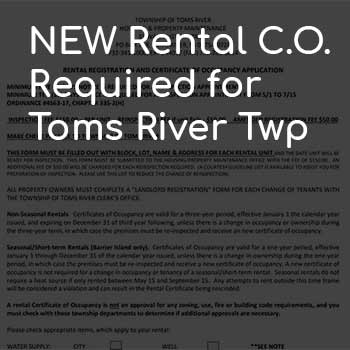 New Rental CO Required for all Toms River Twp. Landlords
Starting March 1, 2018. All Landlords who own a home in Toms River Twp. must attain and pay for a new rental Inspection and CO. Much has changed. NOTE: This does not affect Lavallette Boro or any rental that is not in Toms River Twp.
Please read the full ordinance below.
If your rental is in Toms River Twp and after you have received your new CO, please provide us your Rental Registration # by submitting it on this page. It must be displayed with all advertising.
Click Here to download form to apply for CO
Submit Your New Rental Registration # to Schlosser