New Rental Certificate of Occupancy
by SRE
March 9, 2018
0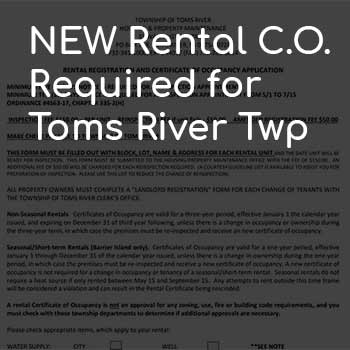 New Rental CO Required for all Toms River Twp. Landlords
Starting March 1, 2018. All Landlords must attain and pay for a new rental Inspection and CO. There are new rules that must be followed to attain and retain a rental CO in Toms River Township.
Important Points: (Follow links for full description)
Inspection fee is $150. ($50 for re-inspection)
Inspection is valid for 1 year. Unless a change in Ownership, then must be re-inspected.
Change in occupancy for seasonal rentals does not require new inspection.
No heat source required for rentals between May 15 – Sept 15. If rented outside this time period (without heat) can result in rescinding of certificate.
Rental Registration # must be published with all Advertising.
Owner must be preset at inspection.
Each occupant must have 70 SQFT of floor area and each addtl. occupant 50 additional SQFT of floor area. That is a minimum 10 x 12 Room for 2 occupants. (Owners may request lower limits)
Please read full ordinance below.
Click Here to download form to apply for CO
Submit Your New Rental Registration # to Schlosser