New Toms River Twp Rental Certificate of Occupancy
by SRE
March 9, 2018
0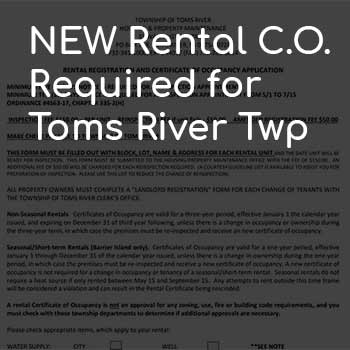 New Rental CO Required for all Toms River Twp. Landlords
Starting March 1, 2018. All Seasonal Landlords who own a home in Toms River Twp. must attain and pay for a new rental Inspection and CO ever year. Much has changed.
NOTE: This does not affect Lavallette Boro or any rental that is not in Toms River Twp.
After you have received your new CO, please provide us your Rental Registration # by submitting it on this page below. It must be displayed with all advertising or you can be fined by Toms River Twp..
Please note that seasonal rentals must be inspected annually. Although your Rental Registration Certificate may list an expiration of 3 years from date of inspection, it means that you may use that RR# for 3 years but the dwelling must still be inspected every year.
See picture of an example RR# and certificate below.
Heating Certs. In the Guidelines document below attained from Toms River Twp. it states that If you have a heat source, you must provide a heating certificate/invoice from a licensed professional stating the furnace was cleaned/inspected within the past 12 months. This is whether or not you are renting only in the summer months. Check with the town if you have any questions about heating certs. This is also required for fireplaces.
Download Helpful Pre-Inspection Guidelines from TR Twp
Example Rental Registration Certificate with RR#. This is what we need to display in all advertising, the RR#.  (This is not to be confused with the CO Certificate and CO#. We do not need the CO#)
Submit Your New Rental Registration # to Schlosser